Why buy a property on Extended E M Bypass
Main reasons for buying a property on Extended E M Bypass
When buying a property in South Kolkata, few names of location come to mind. Location like Jadavpur, Ballygunge, Garia are all developed areas. These locations are old areas and no one will find any big developments as these areas have become congested. The cost of the property is also bit high in these locations. Then what would be the next location to concentrate? People look for some parameters while buying a property. An end user buys a property mostly once in a lifetime. So they want their best property according to budget. The main parameter is location. The address makes a person take decision quickly. Other parameters like communication, convenience, local market, facilities and amenities in the complex, safety and security etc. People also look for the easiness, relaxing and peaceful life. It requires a big residential complex to get all the parameters. Now if one only sees the location in developed areas, cannot get all the other parameters as there are very few complexes with all the amenities and facilities within budget. Here we come why to choose Extended E M Bypass for buying a property.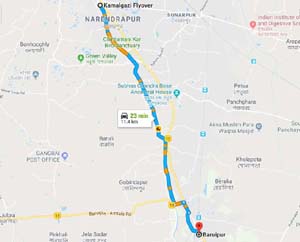 Where is this Extended E M Bypass ?
Extended E M Bypass is continuation of E M Bypass. It is called as Southern Bypass also. It starts at Garia Kamalgazi and ends in Baruipur. One can avail this road through Kamalgazi flyover or to take right turn from NSC Bose Road. Many by-roads are there to connect both the roads; however, one can avail the right turn from Narendrapur Mission Gate.
Public Transport
This is a very new road been built to connect up to Baruipur and to reduce the pressure of old NSC Bose Road. The road is just parallel to NSC Bose Road. As the locations on the road are under development, the public transport is less at present. But once all the developments are ready, this would be a busy road in near future. For availing public transport one has to come to NSC Bose Road which has every transport facilities to accessing different areas in the city. NSC Bose Road is not very far. In some areas it is just 300 meters distance between these two roads. NSC Bose road has a route to Garia Metro station. But for private vehicle, it is very nice to drive on the new E M Bypass.
Property Options
There are many projects under development starting from Kamalgazi. Many developers are developing residential complexes on this road. A buyer can select project according to budget. The nearer to Kamalgazi would cost bit more. One project named Southwinds can be recommended as it has all the facilities and amenities with commercial zone. This is a micro township project and one of the biggest developments on Extended E M Bypass. The location is also nice just three kilometers from Kamalgazi flyover. All the parameters we discussed above can match with this project. Besides this, there are other small projects also which might be with fewer amenities, but with good location.
Conclusion
In all the aspect, Extended E M Bypass would be the best choice in South Kolkata when purchasing a property. Living or investing, in both the cases this location can be recommended. This would be the future of South Kolkata as E M Bypass is already built. It is always better to invest or put money in the location which has a good future.
Written by: Arnab Ray
Share the article with your friends and relatives
Share -
Comments are closed.