Kolkata Real Estate Market Has Every Reason to Cherish Now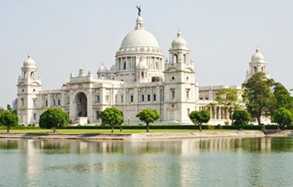 Earlier known as Calcutta, Kolkata was the capital city of India during British reign and was considered as the gateway to India. Nowadays, Kolkata is home to more than 15 million people and the number is counting. Regarded as the cultural capital of India, Kolkata has offered immense job opportunities to people from all classes in past few years. Real estate has emerged as a very successful business in Kolkata and the realty segment of the city offers a range of options, including properties available on rent, lease or buying.
Growing Realty Market
Apartments, offices, industrial set ups, independent homes, commercial spaces and vacant lands constitute realty market significantly. Most property transactions are generally done via real estate agents or realtors. Interests of multinational organizations like DLF Limited and MGF Land Limited have changed the outlook of people towards commercial real estate in Kolkata, and this has contributed in an increase in the property value in more meaningful way. Retail segment remains top favorite of homebuyers and hospitality business ranks second. Kolkata has witnessed construction of some skyscraping shopping malls and hotels.
Construction activities are carried out massively in the Eastern areas and other adjoining regions of the city. To own a property in Kolkata, particularly in the city center, buyers may have to loosen a pocket a little bit more now. A hike of 5-15% is expected on the capital value of residential property, in near future.
Buying property in posh areas of Kolkata is becoming next to impossible, because demand is high and thus the prices also remain on the higher side as well. Such a situation has proved to be ideal for the development of peripheral locations, as a potential alternative.
Builders in Kolkata have received a heart-whelming response from the investors for sky-scrappers and other high-rise buildings, thereby boosting demands for flats for rent in Kolkata.Stability of the real estate market of Kolkata can be understood by this fact that even the global recession period could not disturb the real estate industry here. Undoubtedly, Kolkata realty sector is buzzing with new construction projects that have created a buzz among the buyers and investors.
Commercial properties do not have such an active market as seen for the residential properties, hence builders are more focused on coming up with more residential options.
Approach of Government in Real Estate
West Bengal government has helped builders by creating a cross-subsidy model in Kolkata. This model is considered to help the builders in making profits on high-income housing; the only condition is that builders will have to provide the middle-income groups with flats at a no-profit, no-loss basis, and the same to lower income groups at prices lower than the cost price. Government is also making commercial spaces readily available at short notice, thus attracting more and more potential buyers to the city.
Latest Public-Private Partnership (PPP) model by the government has been a game changer for the realty segment of not just Kolkata, but also has helped smaller towns and cities to grow in terms of new properties. You can understand this by these examples.
Bengal Ambuja Housing Development Limited is developing retail space as well as housing stock in Shantiniketan, Siliguri and Haldia.
Bengal Shrachi is developing a 10 million square feet township in Bardhaman
Bengal Shristi had collaborated with Asansol Durgapur Development Authority for realty development in Durgapur and Asansol.
City authorities have been encouraging builders to construct more and more multi-storied parking lots, particularly in big residential and commercial spaces. The buildings which are using solar energy and ecofriendly building materials for the lighting and other related purposes will be certified green.
Improving Infrastructure
Thinking of Kolkata and old monuments and old infrastructure comes to your mind? Forget about the past, Kolkata is shining now and improving infrastructure and connectivity have a lot to do with it. Kolkata Municipal Corporation is working on a number of projects for adding values to infrastructure within and beyond the city limits. One such development is the East-West Metro Corridor that starts from Howrah Railway Station to Salt Lake City. Also the metro rail network, which is India's oldest metro network is all set to expand and five new metro lines are planned, which will connect the IT City at Salt Lake, Noapara,New Town and Joka.
All in all it can be conclude that the growth in realty segment of Kolkata is mainly attributed to the following factors:
Lower land acquisition costs compared to other metros.
Lower asset costs.
Presence of scalable infrastructure.
Active involvement of government and authorities with several initiatives
Share -
Comments are closed.