Comparison of flat and house
Flats or Independent House ? Advantage & Disadvantage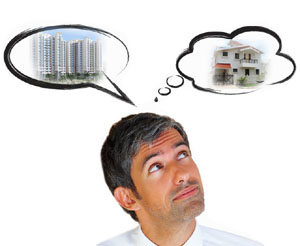 When we are about to buy our dream home, we be in a dilemma which type of property to buy for living. It could be an independent house or a flat in a stand-alone building or an apartment in a residential complex. Each type of property has its own pros and cons. Though it is a matter of choice for every individual where they want to live in, still we can discuss about the pros and cons for comparison of different types of property. So, it can be easier at the time of taking decision for buying a home.
Besides choice, the decision of buying a home also depends on some other criteria like price, job location, transferable duties etc.
Here we start our discussions with first type of home which is an apartment in a complex. An apartment in a complex is a best choice now-a-days because of the facilities and amenities it has. However, it still has some disadvantages which is discussed in this article.
Advantage of an apartment in a complex:-
The key advantage of an apartment in a complex is security. It is very much essential at the event of living your home locked for a long time and also for the family members.
A complex is full with facilities and amenities where living becomes enjoyable. For example, after a daily hectic day, there are several options for relaxation. It can be some work out in gymnasium or just hanging around in the garden or spending some time with family under the open sky or a dip into swimming pool.
Facilities like power back up, water treatment, cctv camera, escalators makes a life hassle free.
A community where different people from different background come together and it is very helpful to each other. Like a doctor or a teacher is always required at any community.
No one has to take care of the maintenance. It is taken care by the company hired by the society.
Disadvantage:-
Maintenance comes with a cost between Re 1 to Rs. 2.5 per sq. ft. per month. This includes all the common facilities. Some facilities or amenities may not be used by someone; however, the cost has to bear.
If anyone gets problem with neighbor, it would be a lifelong problem. May be there are huge noise from the apartment beside.
There is no freedom to make some outer modification of your home.
There is no option to expand your space in case of need also.
There is also another option of flat which is in a stand-alone building. Unlike a residential complex, this kind of property is built up on a small plot of land.
Advantages of a flat in a stand-alone building:-
It is also secured in some ways. The building has many more flats where other families live, so it is safe to keep the door locked for a long period.
It has got some facilities now-a-days like parking, lift, security guard, power back up, rooftop garden etc.
A society is built for taking care of building related matters and maintenance.
A small community is formed by different background people.
Disadvantage :-
Not much amenities are available.
Small plot of land makes it congested.
Maintenance becomes problems sometime.
There is no option to expand your space in this type also.
Though flats are chosen thinking of its advantages, but, in comparison with other types of properties, it is always a dream for everyone to build an independent house on a piece of land. Constructing an independent house has become very expensive due to the cost of the land. It has also some pros and cons which is discussed as follows.
Advantage of an Independent house:-
The degree of freedom cannot be compared with anything else.
It is own land and anything can be done with the land. The house can be modified, expand, shorten or gardening etc.
It is totally up to the owner how to design.
More privacy and nothing are shared with others.
Disadvantage:-
The main disadvantage is security concern. Security guard or gate keeper can be hired with cost.
Other facilities like power back up, cctv, water treatment can be installed with a huge cost. These facilities are very much expensive and also would be hassle at the same time.
Maintenance is a problem. Service like plumber, electrician etc. has to be arranged by own and called for when needed.
If the house is locked for a long period, the security issue may occur for the household items.
Constructing a house on a land is expensive.
To conclude this discussion, it cannot be advised to buy an independent house or a flat. Every type has advantages and disadvantages. So, when doing the comparison, it is up to the individual's criteria and situation which will be the best options for buying dream home.
Author – Arnab Ray
Like this blog? Share –
Share -
Comments are closed.